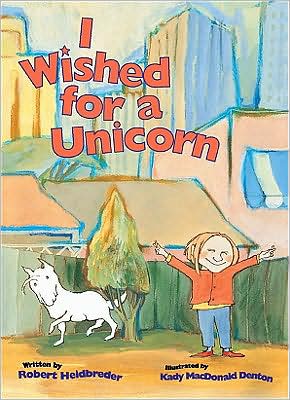 I Wished for a Unicorn by Robert Heidbreder and illustrated Kady MacDonald Denton.

This was the book that inspired this series of posts. I found it so randomly at a charity shoppe that I wanted to share it with everyone so that others may enjoy it if and when they happen upon it or even go looking for it.
The book is a charming book written with such a wonderful rhythm that I actually enjoy reading it to Wednesday, over and over and yes over again. She calls this "My Unicorn Book" and we read it together at least once a day but usually more. It is perfect for her attention span having only one or two four line rhyming stanzas per colourful page. I find that anything more than that and it is anyone's guess if she will stay interested past the first two pages.
But the rhythm in this one flows so wonderful, the verses just roll off your tongue.
The story is about a child that wishes for a unicorn and through sheer will and imagination, has their wish granted...sort of. She goes on an adventure that includes a magic wood, moat monsters and a dragon to mention a few. She (I am presuming it is a she but it could just as easily be a he) and her unicorn don`t stop until they need a nap.
Wednesday's favourite parts have to be the colourful yet scary trees in the magical wood, the howling and the moles that are "Like the Mole Sisters.". My favourite thing about this book is how the title is not I wish I HAD a Unicorn, instead the narrator makes something out of what she already has. Sounds like a familiar concept around here yes...
I pleased to find out when I Googled the author and illustrator that they are both Canadian. It is so rare I happen upon Canadian authors without being directed to them. Also in googling the authors (Kady MacDonald Denton also writes children's books as well as illustrates)I found
The Library and Archives Canada website
and is it ever wonderful. Canadian or not I encourage everyone to browse through the pages and take advantage of the services it offers. I can tell you that this will not be the last time I visit there.
Robert Heidbreder and Kady MacDonald Denton team up for one more book
A Sea Wishing Day
and it looks to be just as wonderful, I cannot wait to add it to Wednesday's ever growing bookshelves.
Speaking of Wednesday's bookshelves, you may have noticed the widgets in my sidebar. They are there as recommendations only. I will add books as we buy them, read them and if we love them. I thought it a great way to share with you what we are loving. Make no mistake, Wednesday's bookshelves are plentiful and i cannot wait to show you a picture but for now I am adding books as she loves the not as I do. (I have so many books just waiting for her to be old enough to absorb them!)If you use the links I make a minuscule commission (I didn't even bother finding out what it is I assume it is so small) but for anyone who does, it will let me know that you value my opinion and my head will swell.
Bonne nuit and happy reading!